Mount Korab 2'764 m/alt is part of the Radika Mountains located in the border between Albania and North Macedonia, therefore It is the highest peak of these two countries, also it is the 4th highest peak in the Balkans. The terrain is mainly meadow but in some places, there are some rocky trails.
How to get there
The starting point for this hike is from Radomirë village. Radomirë is located in Dibra, between the city of Kukes and Peshkopi. To get there you need to go to Kukes through the highway, then you will follow the road to Bicaj village, there it is the airport of Kukes. In Bicaj you can find some mini-markets where you can buy the necessary food and stuff for the trip. After that, you will continue on the road through the hills. After you reach the Kala e Dodes village, you will see two roads/ways. There you need to take the left turn. It is an unpaved road for 3 km before you arrive in Radomirë.
Where to sleep and eat
I would suggest sleeping in Radomirë a night before reaching the top. There are around two famous Guesthouses in Radomira, Korabi, and Haxhi Hima. Haxhi Hima is located in front of the starting point of the trail, sleeping there is not expensive, and the food is great too, sheep's cheese and yogurt are way beyond delicious. In front of this Guest House, there is a small cheese factory where I would suggest you buy a kilo of cheese because you won't regret it.
About the hike Radomirë – Mount Korab – Radomirë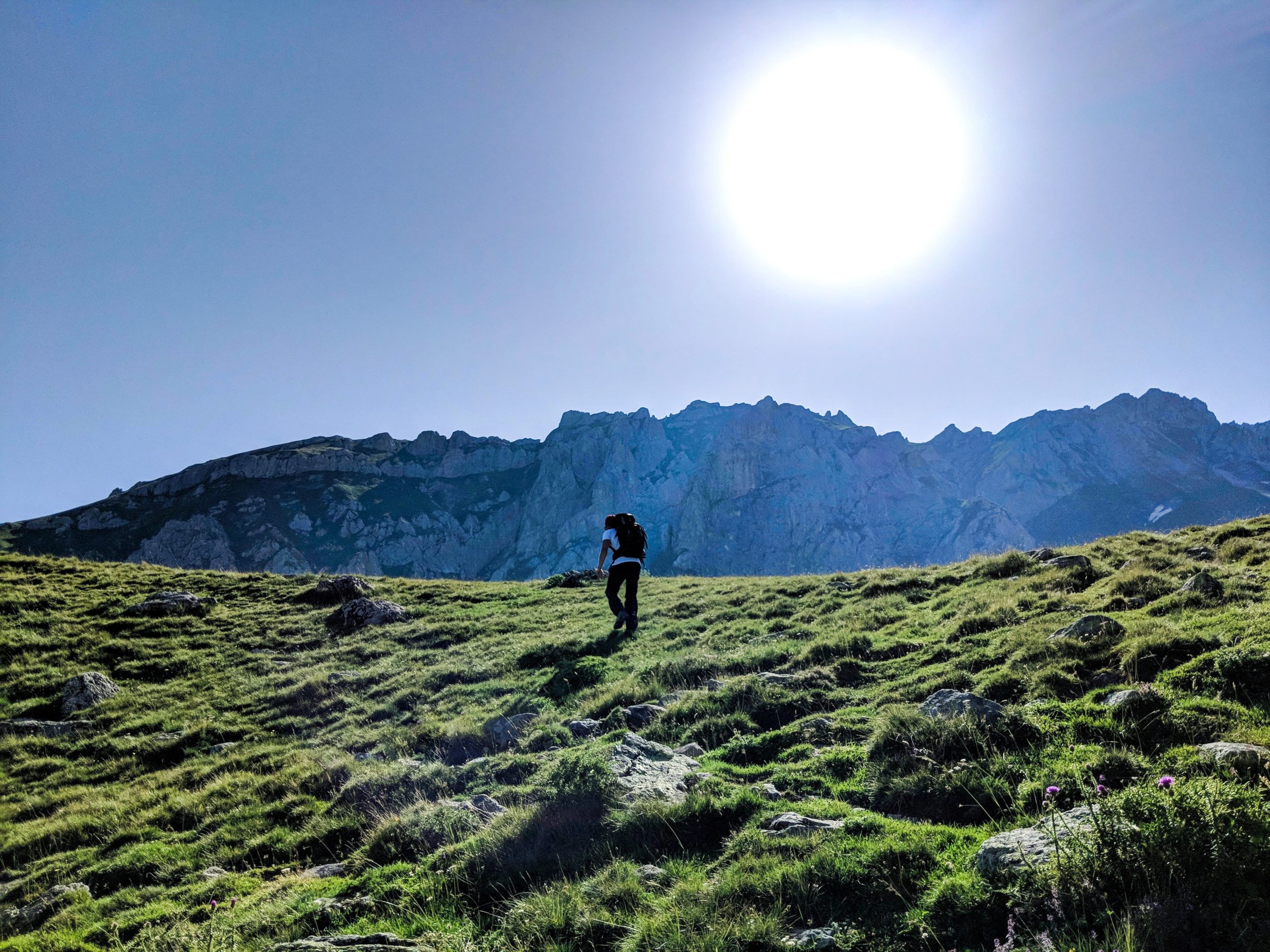 At the beginning of the trail to Mount Korab, you will go through the river. The trails are easy and meadow. You can choose two ways, the right one which is shorter but you need to ascent faster, or the left one. In the wikiloc trail on the bottom of this blog, ascending is from the left trail and descending from the right one. After passing through the river you will need to climb two hills, where you can access water sources. The peak isn't visible yet. You can see two small lakes and some mountain huts. After 7 km, you need to turn to the left. You can decide to go to the ridge to the left which is way shorter but very steep or going to the "right path" which is easier but longer. We chose the first one!
When you reach the ridge, you will need around 400 meters to hike before reaching the top. The views from the top are stunning. To have the perfect view, check out the pictures:
The total distance is 16.28 km., and you have a lot of water sources, therefore, you need to take around 2 liters of water.
Points of interest:
Starting point: Radomirë, Albania
Starting altitude: 1'098 m/alt
Highest altitude: 2'764 m/alt
Elevation gain: 1'666 m/alt
Check out the wikiloc trail, you can download and follow it: