As an avid hiker and an enthusiast of all things outdoors, I have been fortunate enough to discover some of the most breathtaking destinations around the world. Among them, Grama Bay and Shën Andre Bay in Albania stand out as true gems waiting to be explored. Tucked away in an unexplored part of Albania, these bays have managed to preserve their untouched beauty, making them a must-visit for nature lovers and adventure seekers alike. Join me on this exhilarating journey from Palasë to Shën Andre Bay, and then onwards to Grama Bay, as we unravel the beauty of southern Albania.
How to get there
Getting to this picturesque hiking trail is quite straightforward. Your starting point is the charming village of Palasë, conveniently located near the Llogara National Park, nestled below the majestic Qorre Mountain. If you're coming from Tirana, head towards Vlora and follow the road to the Llogara Pass. Once you reach the pass, continue your descent towards Dhërmi. About 5 km before arriving in Dhërmi, make a right turn that will lead you to Palasë.
Going from Tirana is very easy. You head to Vlora first, and then you follow the road up to Llogara Pass. Once you arrive there, go down in Dhërmi direction. 5 km before arriving in Dhërmi, turn right to go to Palasë.
About the hike to Grama Bay and Shën Andre Bay
The hike to Grama Bay and Shën Andre Bay begins at the Palasë shoreline, where you'll find a trail leading to the church. Follow the path behind the church until you reach an unpaved road adorned with a few historical bunkers. After approximately 500 meters, you'll encounter a sheep path that will guide you to your destination. Running parallel to the glistening sea, this trail treats you to awe-inspiring coastal vistas and a remarkably scenic landscape. The best part? The hike is not overly steep, allowing you to immerse yourself in the surrounding natural beauty truly.
After hiking for about 8.5 km, you will reach the stunning Shën Andre Bay. Prepare to be captivated by its remarkable sand and crystal-clear waters. The pristine quality of the water and its vibrant color make it a true paradise. Take this opportunity to bask in the sun and relish the tranquility of this unspoiled corner of the coast. Feel free to refer to the photo on our website to catch a glimpse of its sheer beauty.
From Shën Andre Bay, you'll have roughly 4.5 km left until you reach Grama Bay. The trail continues along the coastline, treating you to more breathtaking views of the sea. Eventually, you'll stumble upon an old military station that was once used during the communist era. From this vantage point, prepare to witness the most awe-inspiring vista of the entire hike—the panoramic view of Grama Bay. With its pristine beach and extraordinary surroundings, this secluded spot offers an ideal setting to reconnect with nature or take a refreshing dip in the crystal-clear seawater.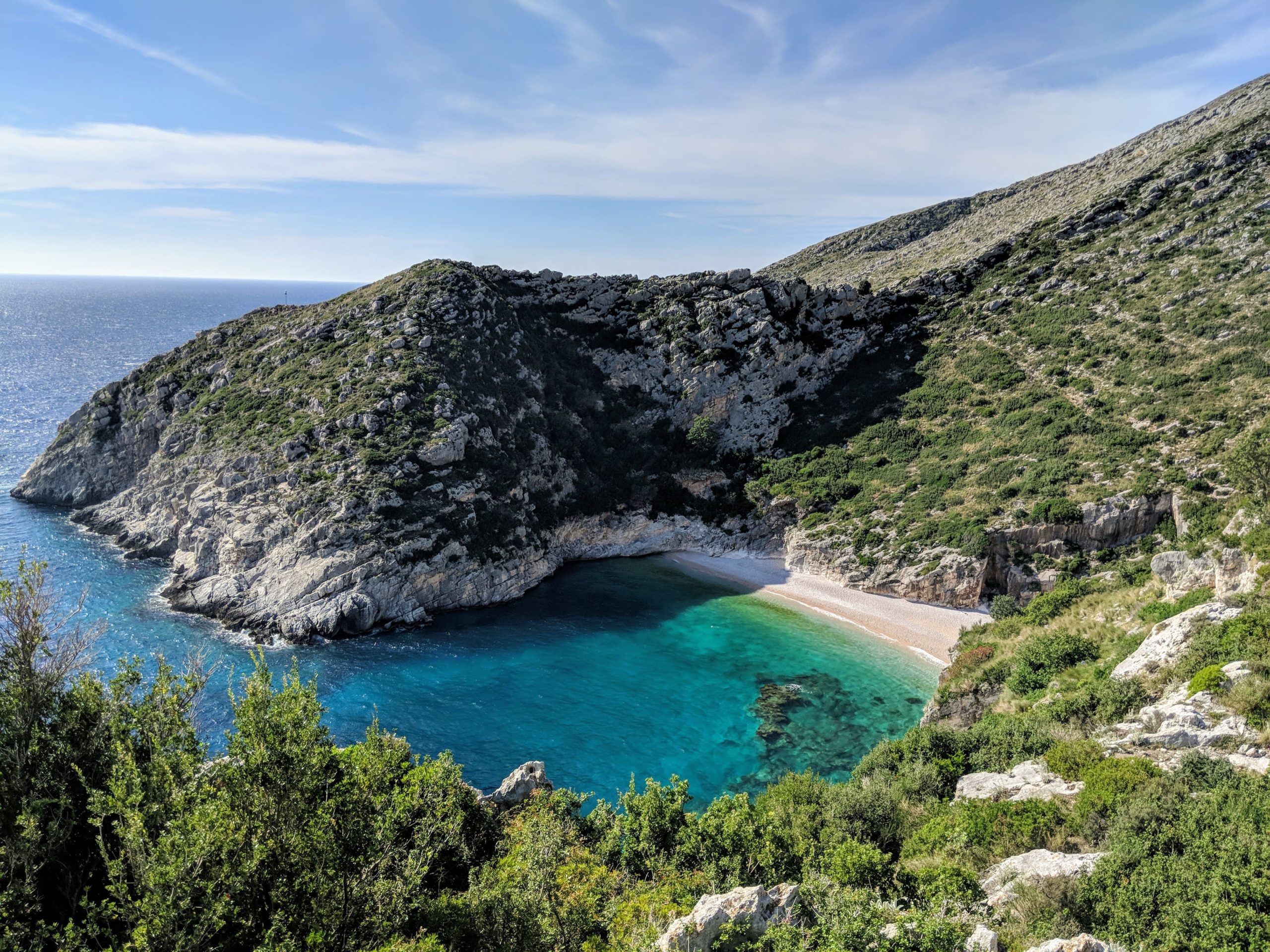 It's important to note that there are no water sources along the trail, so it's essential to carry an ample supply of water—around 4 liters is recommended. The weather can be quite warm, especially from May to October, making early spring and late autumn the ideal times to embark on this hike.
In terms of logistics, the total distance for this hike is 13 km (one way). You'll begin at an altitude of 45 m and reach the highest point of 100 m, resulting in an elevation gain of 533 m. For detailed directions and guidance, I highly recommend following the Wikiloc trail, which is available at the bottom of this page.
Embark on this unforgettable hiking adventure and witness the unspoiled beauty of Grama Bay and Shën Andre Bay in southern Albania. Immerse yourself in the serenity of these untouched havens.
Points of Interest:
Starting point: Palasë, Albania

Starting altitude: 45 m/alt

Highest altitude: 100 m/alt

Elevation gain: 533 m/alt
Wikiloc trail for this trail: